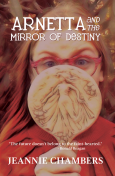 Genre -
Historical Fiction
LitPick Review

Arnetta Price has had a fractured family since a horrible accident claimed the lives of her parents, younger brother, and one set of grandparents, sending her to live with her other grandparents, Grammy and Papaw. If only she could have prevented the accident.
What would you do if you could see the future? When Arnetta stumbles into What's New, an antique shop, on an extremely rainy day, she picks up a mirror and sees something she can't unsee. A car crash and a girl standing, staring at her. But when she looks around, there is no one there and no car crash in sight. A few days later, she is nearby when she hears a crash. There, in front of What's New, is the same car crash and girl she saw in the mirror. Upon further investigation, she finds out that the girl, Brinda Barefoot, also belongs to a fractured family and the mirror can show the future. The girls quickly become friends.
One day, the owner of What's New, and the girls' friend, sees something horrible in the mirror, but no one knows when it will happen. It could be days or years away. Will the knowledge that something terrible is going to happen give Arnetta and Brinda the power to fix it? Or will the frustration and guilt of powerlessness damage their lives beyond repair?
Opinion:
Arnetta and the Mirror of Destiny is a very interesting book. The plot line is wonderful and complex but could use more development. The idea of a mirror that shows the future is not an entirely new idea, but the idea that you never know when or how that future could occur makes the story more nerve-racking and page-turning. There is great character development, but it seems to come from nowhere. The circumstances causing the characters to change are not well described. Overall, Arnetta and the Mirror of Destiny is a very good book, but falls slightly short of its full potential.
Explain your content rating:
There is some harsh language.
KEYWORDS
CHARACTERISTICS AND EMOTIONS:
ACTIVITIES, HOBBIES, PLACES, AND EVENTS: