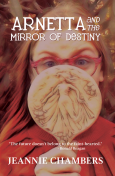 Genre -
Historical Fiction
LitPick Review

What would you do if you could foresee the future? Arnetta and the Mirror of Destiny is a fiction novel that takes place in the year 1985, where Arnetta lives with her grandparents in a small textile mill town in South Carolina. Even though her family died when she was young, Arnetta tries to maintain an upbeat facade in school and around her crush, Craig. But one rainy day, everything changes. Arnetta wanders into a store full of antiques and notices a particularly elegant mirror. What Arnetta sees in the reflection makes her scream: a black-haired girl standing next to a car crash. The store owner, L.M., assures Arnetta that she's seeing things, but Arnetta can't shake the feeling that something terrible is about to happen. Sure enough, a few days later, a girl with black hair gets into the fated crash outside L.M.'s store. Mystified, Arnetta begins to follow a trail of clues, first approaching the black-haired girl named Brinda and then confronting L.M. about the mirror's origins and powers. The three come to an agreement to keep the mirror a secret. But when L.M. looks in the mirror and foresees an event that could affect the entire nation, Arnetta begins to learn that being able to see the future does not mean she should.
Opinion:
This book held a lot of promise. The setting was very unique, and every character had a distinct backstory and personality, which was highly enjoyable to read about. The plot was interesting and kept me hooked. However, there were many elements of the book that were unnecessary to the story. For example, Arnetta's memories about her deceased family occupy many a chapter, but the fact that she is an orphan does not affect her personality; the story would have been the same even if her parents were alive. Also, Arnetta's love interest, Craig, is described in detail, but he barely contributes to the story either. Besides that, the writing was quite stilted and did not flow well. The frequent lack of dialogue and thought tags felt very unnatural. All in all, the premise of this book was certainly captivating, but unnecessary elaboration and awkward sentences made it more tedious than it could have been.
Explain your content rating:
There were some of the harsher curse words.
KEYWORDS
CHARACTERISTICS AND EMOTIONS:
ACTIVITIES, HOBBIES, PLACES, AND EVENTS: