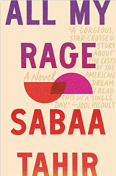 Age Range -
Mature Young Adult
LitPick Review

Salahudin and Noor are in their final year of high school in a rural California town. Noor survived an earthquake in Pakistan that decimated her entire village when she was 6 and has been living with the uncle who rescued her ever since. Noor's uncle hates reminders of Pakistani culture and Muslim faith and berates Noor for her connection to them while forcing her to work at his liquor store. But Noor has a secret: she's been applying to colleges across the country.
Salahudin has grown up with a loving family, but his life isn't problem free; his family's hotel is failing, and a sudden death coupled with a parent who uses alcohol as a coping mechanism mean that Salahudin feels that it is up to him to save the hotel and fix his family's problems.
Noor and Salahudin were once close friends and allies in their majority-white town and are slowly finding their way back to one another in the aftermath of tragedy. But obstacles continue to pop up in their lives in the form of racism, abuse, debt, and more, and when a series of questionable decisions leads to an event with devastating consequences, their lives are forever altered.
Opinion:
Told from the dual perspectives of both Noor and Salahudin, with vignettes from the past narrated by Salahudin's mother, Misbah, interspersed throughout, All My Rage is a layered and complex examination of rural life as a marginalized teenager. Noor and Salahudin are both dealing with a variety of trauma, and outside forces as well as their own family support systems are working to prevent them from healing and thriving. Noor and Salahudin have distinct voices and emotions, and those are what come through most strongly throughout the novel. Readers will become completely absorbed in the lives of these two characters. The majority of the story is well-paced, but the ending does feel a bit rushed. Overall, however, this is an excellent story.
Explain your content rating:
All My Rage delves into a wide variety of topics best suited for older readers-there are depictions of physical, emotional, and sexual abuse, alcoholism, drug overdose and drug dealing, racism and Islamophobia, death of a parent, police bias, and other trauma.
KEYWORDS
CHARACTERISTICS AND EMOTIONS:
ACTIVITIES, HOBBIES, PLACES, AND EVENTS: