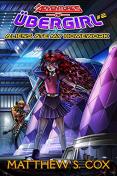 LitPick Review

WATCH THE LITPICK BOOK BRIEF VIDEO

Kelly Donovan has superpowers from a giant crystal dropped on Earth by aliens. But these powers come with a price. Both of her parents are evil supervillains. Her dad's in jail, and her mom left after putting Kelly in a death trap. But worst of all, aliens are pretending to help humans, and only Kelly knows what their real plan is. The truth is, the aliens want people to become tougher so they can be forced to work in mines on another planet. People love the aliens and go along with them. Can Kelly really save the world from disaster? After all, she's only nine.
Opinion:
Aliens Ate My Homework is the second book in The Adventures of Übergirl series by Matthew S. Cox. The book is great for anyone who likes science fiction, although I would recommend it to ages 10-16. It is so interesting that I couldn't stop reading. Aliens Ate My Homework shows that being good or evil is a choice that we each must make, even if we don't have superpowers. Matthew S. Cox has done a wonderful job developing all the characters. I loved this book, and I think others will too.
Explain your content rating:
There is nothing offensive in this book.
KEYWORDS
CHARACTERISTICS AND EMOTIONS:
ACTIVITIES, HOBBIES, PLACES, AND EVENTS: