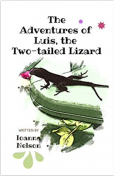 LitPick Review

The Adventures of Luis, the Two-tailed Lizard begins with a little girl and her sister and their relationship with a black lizard who lives in their grandmother's garden in Miami, Florida. Throughout the story, the sisters notice Luis, his family of lizards, and his friends. They eventually get to talk to Luis and learn about all of the exciting adventures of his life. Luis takes readers on a journey to sail across oceans to new countries and make new friends from different cultures. Get ready to jump into a fascinating tale about a lizard with two tails!
Opinion:
The Adventures of Luis, the Two-tailed Lizard is an exciting story for younger readers. The different characters capture the reader's attention as the story transcends to a garden of animals then travels to different countries with new electrifying characters. Not only will readers enjoy Luis and his friends and family in the garden, but they will also love the different cultures that Luis encounters on his adventures. This book is perfect for intermediate readers because of the chapter organization, and it incorporates other languages to engage readers' learning skills. Finally, this book is perfect for young readers because it is written by a young author just like them!
Explain your content rating:
There is nothing offensive. It is perfect for all ages.
KEYWORDS
CHARACTERISTICS AND EMOTIONS:
ACTIVITIES, HOBBIES, PLACES, AND EVENTS: