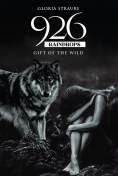 LitPick Review

The book 926 Raindrops - Gift of the Wild was written by Gloria Straube, who is a daughter, a sister, a wife, a mother, a strong-willed woman, and a passionate advocate for voiceless animals. The author tells the story of her life in the book, so it belongs to the non-fiction genre. Gloria's story is written in stages, beginning with her childhood, chapter by chapter, and the author reveals her personality, making it easier for the reader to feel what the author went through and understand the motives for her actions. Gloria always knew that she was different from the other children, and she spent most of her time alone. Nevertheless, she was able to find joy and solace in a place that had always been close to her: nature. As she grew up, the author learned love, learned to fight the blows of fate, and learned to cope with her emotions until she couldn't do it anymore. Something irreparable happened in Gloria's life whereupon she never dreamed of living as before. But fate gave Gloria a chance for rebirth; it was the dream with the wolves that changed her consciousness. Gloria trusted her pristine nature and followed their call, which became a new chapter in the author's life and a new source of strength. This book is a revelation that aims to inspire the reader to accept their nature and courageously follow their intended path.
Opinion:
To be quite honest about it, Gloria Straube's story managed to give me goosebumps, which indicates the author's ability to awaken the reader's imagination and completely immerse one into what is happening. I confess that the likelihood of some points was questioned by me, but nevertheless, not for long. Sometimes it is useful to turn off critical thinking to be able to engage that part of consciousness that knows no boundaries and can comprehend the impossible. The illustrations deserve special attention as they fit the book perfectly and show the key idea of each chapter. The book is rich with winged phrases and wise quotes, and undoubtedly, some of them resonated with my heart. "What we have once enjoyed, we can never lose. All that we deeply love becomes part of us." (p. 102) "We do not always get what we want. Maybe it is because it is life's way of telling us it has better things planned for us ahead." (p. 47) If you enjoyed reading the book Women who Run with the Wolves written by Clarissa Pinkola Estés, you will definitely appreciate 926 Raindrops - Gift of the Wild. The authors of these creations give us important messages saturated with the wisdom of generations, which insist that we are not alone; behind us is a natural power that is capable of healing a fragile human soul. You just have to trust that power and feel a long-forgotten, unbreakable bond with Mother Nature. This book is for those who wish to find support, look deeper than visible, find their pain points and bring them to the surface, and then look for their own way of healing. I sincerely hope that this extraordinary book will help you to change into a better person, just as meeting with wolves once helped the author to do so.
Explain your content rating:
The book is not suitable for young children. There are topics in the book, that children won't understand yet.
KEYWORDS
CHARACTERISTICS AND EMOTIONS:
ACTIVITIES, HOBBIES, PLACES, AND EVENTS: