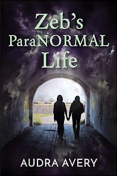 LitPick Review

Fourteen year old Zebulon Harris, the main character in Zeb's Paranormal Life by Audra Avery, is not your typical teenager. He is a medium, which means he can channel spirits and talk to them. But he often finds himself thinking of his ability as a hindrance and wishing he was just a normal kid going to a normal school. One day, he goes as far as saying he won't be a medium anymore, then he meets and befriends Karen Pecan, a new girl at his school. Soon he learns that she is really a ghost, and he tries to ignore her; but there's something about her that he just can't let go. He gradually finds out that Karen is in danger and needs his help. Will Zeb continue to shun his paranormality or choose to accept it in the name of helping Karen?
Opinion:
Zeb's Paranormal Life is a fast-paced and suspenseful read. Audra Avery includes many plot twists to keep the reader engaged for the entirety of the novel. In my opinion, Zeb's Paranormal Life had just the right amount of characters which made up the perfect balance of good vs. evil. I really liked how this book included subtle life lessons that are applicable to teen readers and which complimented the riveting storyline. One such lesson that Zeb learns throughout the book is to accept your personality and trust your abilities, no matter what happens. I would recommend this book to fantasy lovers ages 12 and up.
Explain your content rating:
The book contained no religious, violent or mature content.
KEYWORDS
CHARACTERISTICS AND EMOTIONS: