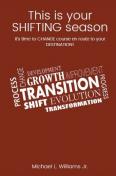 LitPick Review

This Is Your Shifting Season by Michael L. Williams Jr. is a spiritual book that is going to change your perception about your true inner power, teach you valuable life lessons, and show what is possible with dedication and the right strategies. It draws similarity from different auto parts and compares them with the vehicle called life. Having personally experienced the various lows in life for over two decades, the author embarks on a noble journey to spread love among his readers. The pages are filled with positivity and many learning outcomes. How to accelerate your life, how to find your real destination, what is this shifting season and how to uncover your true potential are some of the thought-provoking questions that are answered in this book. It has much more to offer than is apparent from the title.
Opinion:
Michael's use of similes and metaphors for making the readers understand the various setbacks and motivations in life come from his observations. The author's experiences over the years teach us how to start our vehicle called life, how to use the first gear, brakes, clutch and accelerator. He teaches the techniques of shifting gears – upshifting, downshifting, parking – and how they are relevant in changing course en route to your destination. The book has wonderful editing as keywords have been highlighted and boxes containing inspiring main lines drawn in most pages. I appreciate how the author has connected with his readers by converting this book into a personal diary where a Notes section has been provided at the end of each chapter to pen down personal observations. This book is a life changer and will appeal to the young and old alike.
Explain your content rating:
This book contains nothing that would be considered offensive. It is generally absent of violence, sex, drugs, swearing, and crude comments.
KEYWORDS
CHARACTERISTICS AND EMOTIONS:
ACTIVITIES, HOBBIES, PLACES, AND EVENTS: