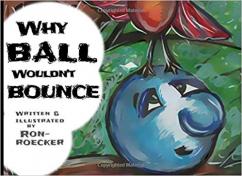 LitPick Review

WATCH THE LITPICK BOOK BRIEF VIDEO!

Why Ball Wouldn't Bounce by Ron Roecker is a cute picture book that will eventually be part of a series called Six of One, Half a Dozen of the Other. All of the stories will be based on familiar idioms and adages, just like this one is written about "That's how the ball bounces." The story itself is a well-rhymed poem that is easy and fun to read, and the pop art type illustrations add some humor to its message.
It's about a ball that is sad and lonely because he doesn't fit in with others very well. When he can't take any more disappointment, he finds a private place where he can cry. There he meets an unexpected friend who reminds him we are all special in our own way. When everyone's different, the world is a better place! That's why everyone should "bounce" their own "bounce" and live a life celebrating exactly who they were created to be. In the end, the ball has to decide if he wants to stay upset all of the time or if he wants to be happy and proud of what he can accomplish. It's an important lesson for all of us to learn that while we can't control everything about our lives, we can choose how we feel about it.
Opinion:
Overall, I like how Why Ball Wouldn't Bounce's serious message is written in a whimsical way so it can appeal to just about anyone. Little kids would love the sing-song nature of the book's rhymes and the bright, colorful pictures that stand out on all of the pages. It is a great story for parents and teachers who want to start conversations with kids about how we should treat others the same way we want to be treated. It especially shows how a meaningful friendship can come into our lives when we least expect it. Teens and young adults often don't read picture books, but this simple story about feeling miserable over being different is a reminder for all ages that none of us are perfect. We all are unique in our own way, and every day we are the ones in control of our attitudes about ourselves.
KEYWORDS
CHARACTERISTICS AND EMOTIONS: