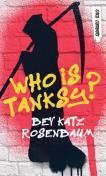 LitPick Review

Tanya Kofsky has just moved to a new town so her mom can take care of her grandpa. But Tanya finds that, except for a new candidate for class president, the student body largely ignores her. Tanya struggles to navigate the hardheadedness of not only her peers but also her grandpa. To "speak out" against the school principal and his policies, she turns to her favorite (although illegal) art medium—powerful and symbolic graffiti. It turns out that a good majority of the student body agree with her views and want change as well, yet the principal controls everything. Can Tanya help her new friend, the class president candidate, win the election in order to spark change? Will she be able to stay anonymous long enough to start a school rebellion?
Opinion:
I appreciate the book's theme, because it shows students who struggle to find a voice when adults in power refuse to listen. Many readers might be subjected to another person's will, whether it is a parent, boss, teacher, or religious figure. In this book, the reader sees Tanya finding her voice and being heard among people who don't particularly care to listen. Although Tanya doesn't necessarily stay within the confines of the law when "speaking out" against the oppressive principal, she arguably does what is right, which can be perceived as admirable. The majority of the book shows Tanya struggling with this, providing interest and fun because it inspires me to cause change in my community. However, despite the inspirational nature of the book, it seems the author takes the easy way out with the ending, although I understand why the book ended the way it did since other avenues might have come off as unrealistic. Overall, Tanya is an inspirational character because she is relatable despite her bravery.
Explain your content rating:
There is no bad or inappropriate language, but the main character does break the law in creating graffiti.
KEYWORDS
CHARACTERISTICS AND EMOTIONS: