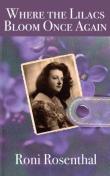 Genre -
Historical Fiction
LitPick Review

Friddie Rosenthal has always been charismatic and quite the troublemaker, always making her own decisions in life. Growing up in a strict French private school and a Jewish household in Romania in the 1920s, Friddie quickly learned the power of acting innocent and being persuasive to get what she wants. Despite being a partier throughout her youth, she tells her parents that she will eventually settle down with a nice Jewish man who they will approve of. Soon after turning 18, she gets engaged to Nelu, a responsible Jewish accountant, and exactly the type of man her parents and everyone around her wants her to marry. On the day of the wedding, Friddie calls off the marriage, knowing she cannot go through with it. Soon after, she moves off to live in her aunt's summer home in Eforie Nord, a coastal town in Romania near the beach. There, she meets Freddy, who is her perfect match and the man she has always hoped for. Friddie is hoping she had finally found her happy ending, but from family problems to more serious issues in the country, life takes an unexpected turn for her. Where the Lilacs Bloom Once Again is a raw and realistic tale of a Romanian-Jewish family dealing with the repercussions of World War 2 in their daily lives.
Opinion:
Overall, Where the Lilacs Bloom Once Again is an excellent book. This story is a historical fiction novel, but I truly felt immersed in the life of Friddie and her family and felt like I was reading about the life of a real family. The author did a great job of making Friddie's family realistic, from her strict but extremely loving parents to her naughty younger cousin, to her dynamic aunt. We are also able to see Friddie mature throughout the book from starting out as a troublemaker to maturing into making her own decisions, such as when she calls off the wedding and decides to move. Another thing I liked about this book was the pacing. I liked how the first few chapters occurred pretty quickly and gave an overview of Friddie's life from when she was young to her turning 18. The author did a great job of incorporating hard topics from Friddie's life into the story such as when she felt pressure to get married to "a good Jewish man". I think this once again made the story more realistic and relatable and gave a good view into young women's lives around the 20th century. Additionally, this book takes place during the late 1930s and 1940s, which was a horrible time for many Jews, especially those living in countries such as Romania. I think the author did a great job of telling the stories of both those in labor camps as well as those who were majorly affected despite being able to stay in their homes. I also liked the themes of overcoming hardships and how this was shown through multiple characters and not just Friddie; an example of this is her Aunt Rosa overcoming the disappearance of her husband. I highly recommend this book to any reader, especially those who enjoy historical fiction!
Explain your content rating:
There is some mature content in this book.
KEYWORDS
CHARACTERISTICS AND EMOTIONS:
ACTIVITIES, HOBBIES, PLACES, AND EVENTS: