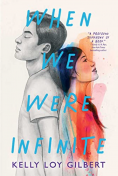 LitPick Review

After watching her parents' relationship fall apart, Beth is determined to keep her five friends together no matter what. Nothing will separate them, not even college. But when tragedy strikes and one of her friends, Jason, almost dies, she realizes that she might not be holding on tight enough, or worse, she might not be enough. But a few weeks later, everyone else seems to want to forget that anything happened, and they are even considering attending different colleges! Beth can't understand. Don't they feel the crushing weight of keeping Jason alive? Don't they care about staying together? Isn't she enough? Aren't they meant to be infinite?
Opinion:
I have so many positive things to say about this book, I don't know where to start. When We Were Infinite was an AMAZING book. What keeps coming to mind is that the book seems so real. I'm currently a junior in high school, and already my friends and I are feeling the pressures of college visits and test scores. When We Were Infinite covers so many tough subjects like divorce, suicide, panic attacks, abuse, and absent parents. These subjects make it okay for a mature 13 or 14 year old, but I would highly recommend it for ages 15-21. It has dynamic characters that readers can relate to. The ending is beautiful, following Beth into her college years and giving a satisfying ending without it being unrealistic. Overall, When We Were Infinite is a must-read book for young adults. Just have some tissues handy - I know I cried a lot.
Explain your content rating:
There is talk of sex and uses of profanity. The book covers hard subjects like suicide and divorce, which may be triggering to some.
KEYWORDS
CHARACTERISTICS AND EMOTIONS: