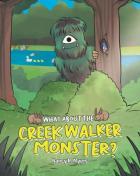 LitPick Review

What About the Creek Walker Monster is a story about a young boy, Daniel, on a quest to discover the monster living near his house. He hears about this peculiar creature from some of his friends. The monster is muddy, smelly, and resembles a mop. Daniel is determined to find out about this monster! He begins to question his father and other people around town to gather more information about the validity of its existence. Does the Creek Walker Monster exist? Will Daniel find the monster?
Opinion:
What About the Creek Walker Monster is a perfect book for imaginative younger readers. The story takes readers on a mysterious journey to find a monster, and readers have the opportunity to question the validity of the monster's existence and whereabouts. This book is a great way for readers to apply problem solving skills to gather information and follow along with Daniel's quest for discovery. While the story ends on a positive note, the author could have definitely added some more excitement and action since the book focuses on a monster. Even though the ending could have been more developed, this picture book is still a great opportunity for readers to use their imagination and questioning skills.
Explain your content rating:
There is nothing offensive. It is about a monster, which could be scary to some younger readers.
KEYWORDS
CHARACTERISTICS AND EMOTIONS: