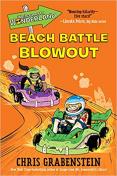 LitPick Review

Join P.T. on his adventures at The Wonderland Hotel in Welcome to Wonderland #4: Beach Battle Blowout! This year P.T. and his friend Gloria are up to even more trouble. Each year the Wonderland resort tries to qualify for the Hottest Family Attraction in the Sunshine State award, but every year, they don't make the shortlist. For the first time ever, all of the big attractions, like Sea World and Disneyland, are out of the competition! P.T. and his family might be able to win the coveted award! However, there is just one small problem: Wonderland still has a lot of fierce competitors. As the deadline closes in for the contest, P.T. and Gloria realize that the Wonderland resort needs more things to do. But will P.T. and Gloria be able to pull it off and win?
Opinion:
Welcome to Wonderland #4: Beach Battle Blowout has an overall satisfactory plot. However, having read the other three books in the series, I found the plot to be quite repetitive. The concept of having a competition with other hotels and parks was similar to Welcome to Wonderland #3: Sandapalooza Shake-Up. This is the reason that I took off one star for my review. Other than that, I thought this book was pretty good. This book is a fun and silly read that I enjoyed.
Explain your content rating:
This is a family-friendly book.
KEYWORDS
CHARACTERISTICS AND EMOTIONS:
ACTIVITIES, HOBBIES, PLACES, AND EVENTS: