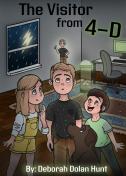 LitPick Review

WATCH THE LITPICK BOOK BRIEF VIDEO!

The Visitor from 4-D by Deborah Dolan-Hunt is a light-hearted science fiction novel that is based on the time travel experiments some people believe occurred at the former Montauk Air Force Station, which is now Camp Hero State Park, in New York. When the story begins, Jake, Keely, and Michael Keating are excited about having pizza and playing video games at their favorite restaurant on a stormy Saturday night, but first they have to finish a puzzle their parents want to donate to a school auction. After lightning suddenly strikes, they are shocked when Billy, an 18-inch look-alike of Michael, appears out of nowhere, and their uneventful evening of fun turns into a mysterious adventure with all sorts of problems to solve. The kids have to figure out how to hide Billy from their parents, keep him safe, and somehow try to return him to the 4th dimension he came from without any blunders happening. As they face opposition along the way, they realize they have to be careful who they trust for help. People may not be exactly who they claim to be!
Opinion:
The Visitor from 4-D is a great book for introducing 8-12-year-olds to science fiction for the first time. It's a short novel, but it has detailed description that brings the story to life. The action moves along steadily, and the suspense is never scary. The Keating kids and their friends are smart, resourceful problem-solvers who sometimes banter back and forth with one another, but they are helpful. They often show how much they want to work together and with others so Billy has the best chance possible to get home safely. Sometimes books that try to explain the 4th dimension can be confusing to read, but this one is straightforward and simply written. For me, the best part of the book is that it is based on a real place with a history full of controversy. The story made me so curious about Camp Hero at Montauk that I took time to read more about it. For anyone who lives near there, it would be a unique place to visit! I also think this could be the added extra some kids might need to get interested in a story.
KEYWORDS
CHARACTERISTICS AND EMOTIONS:
ACTIVITIES, HOBBIES, PLACES, AND EVENTS: