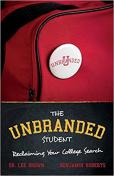 LitPick Review

The Unbranded Student is the ultimate guide to finding the right college, from beginning to end. In all honesty, they cover everything you need to know in order to make the best out of the efforts you put into higher education. This book is an unbiased informational guide about finding your strengths and weaknesses and using those to effectively find the right college that is tailored for you.
This is not a promotion of the most expensive schools. Actually, it's quite the opposite. This book promotes everything that is in the best interest of each individual, and it encourages each student to write their own life story based on their entire life experiences, not just what college they went to. The informative writing persuades its readers to use college and higher education as an efficient tool or as a means to an end, not an end itself. As you will see, there is a lot more to choosing a school than just deciding which one is the coolest. This book will help you select the right one.
Opinion:
Although my plans do not include college, I still found some very useful information on how to use your skills and build new ones in the workforce. The authors did a superb job of finding a balance in all their subjects, as they themselves are qualified professionals. They cited very reliable and accurate information and provided plenty of resources to aid a student in their search for knowledge. I would definitely suggest this book for high school students, as it is a must-read for those planning to achieve any sort of higher education. As this is an informative read, I would not suggest it to those who are looking for light entertainment. But for parents, high school students, and teachers, this is the perfect read.
KEYWORDS
CHARACTERISTICS AND EMOTIONS:
ACTIVITIES, HOBBIES, PLACES, AND EVENTS: