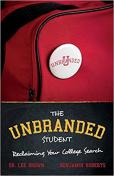 The Unbranded Student
Bad college advice is everywhere. Here's some good advice:
You are more than a brand.

Yes, even while the world says otherwise. Today's social media environment has turned teens into brand managers, responsible for constructing an image for the world to see, like, and share. Selecting a school has never felt more daunting; choosing the right brand, never more important. But you are more than the letters on a sweatshirt or colors in a crest. You are an individual. Your gifts, interests, learning styles, and ambitions deserve careful consideration. That's what we're here for - to partner with you to find a college that will support the vision you have for your life.

IMPROVE HAPPINESS & LOWER DEBT - Choosing a school that's a poor fit can lead to massive loans, low graduation rates, and decreased levels of happiness.

NARROW YOUR RESULTS - Our book teaches you how to analyze your strengths, understand your personality, and clarify your passions.

THE RIGHT TOOLS - We guide you through the various types of majors and tracks available to you as a college student. WithThe Unbranded Student, the college search process doesn't have to be daunting.

EDUCATED GUIDANCE FOR YOUR COLLEGE SELECTION - We evaluate a number of different schools selected based on your holistic results. In other words, we want to help you reclaim your college search.

Our book and course will empower you to:

1. Articulate what is special about you
2. Understand what college can - and can't - do for you
3. Formulate a thoughtful and actionable college selection process
Our goal is to help you create a college search strategy that makes sense for who you are, not whom you think a college wants you to be. Ready to reclaim your college search?