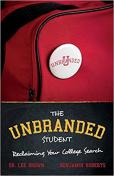 LitPick Review

WATCH THE LITPICK ANIMATED REVIEW VIDEO!

The Unbranded Student is co-written by Benjamin Roberts and Lee Brown as an educational resource for students. This book teaches about many things, like how to analyze your strengths and weaknesses. It helps to identify a school that would be the right fit for you and your lifestyle. The authors teach students how to make practical and informed decisions on which college to go to. They advise not to choose based purely on what the campus looks like or which friends are going there. Students are taught to pick a major based on a desired future career and not to pick a career based purely on it being a fun hobby. Instead of being an open-and-closed discussion of just "get good grades, do well on standardized tests, and be lucky," this book teaches students real and practical lessons. It teaches that college is just a stepping stone toward having a fulfilling life, instead of saying that college is the ultimate goal. Each chapter has useful advice from experts and current data instead of relying on a "he said, she said" approach.
Opinion:
The Unbranded Student is an extremely useful book, giving information that many other how-to-succeed-at-college books fail to give. All the information is useful and pertinent to every student's life. Each chapter is comprised of different questions that should be asked. This book gives useful information like when you should start applying to colleges, how to apply yourself to discover your unique talents, what major will be fulfilling, which college would be your best fit, and why college is even important. This is a very motivational book that encourages students to go to college with a spring in their step and a major that they'll enjoy after college. It is a lot more useful than other guides because it draws on many ideas that not everyone will think of right away. I would recommend this book to anyone who is interested in going to college.
Explain your content rating:
There is nothing offensive in this book.
KEYWORDS
ACTIVITIES, HOBBIES, PLACES, AND EVENTS: