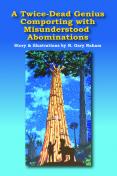 LitPick Review

Rudy Goldsiten has already died twice. After being placed in the care of Nessie, an AI guardian, she preserved him from an asteroid strike so that he could help humans survive alien contact many years later. There he died for the first time. Then he died a second time years later, merged with an alien. Now, the civilians of Earth need him once again. Hostile human-aliens have been roaming Earth, and their agendas are unclear. Is Rudy willing to risk dying a third time to help his descendants?
Opinion:
Overall, I think this was a great book. One thing I liked about this book was all the diagrams and pictures included. This was helpful for the things I didn't know about as I could reference the images. I also like the fact that this book is set in the future and includes artificial intelligence and aliens in it. However, I think this book may be more appropriate for older teens and adults as they will have more knowledge on the topics mentioned in this book. There is also a lot of mature content in this book, and I think that is a better fit for adults and older teens. I enjoyed this book and recommend it to people who like Dystopia and Sci-Fi.
Explain your content rating:
There is mature content in this book.
KEYWORDS
CHARACTERISTICS AND EMOTIONS:
ACTIVITIES, HOBBIES, PLACES, AND EVENTS: