A Twice-Dead Genius Comporting with Misunderstood Abominations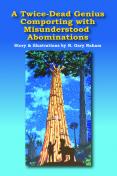 A Twice-Dead Genius Comporting with Misunderstood Abominations
Rudyard Albert Goldstein, inventor of the Biomic Network Algorithm, made piece with death once in the 22nd century, but an idiot doctor hijacked his mind, placing it in the care of Nessie, an impish AI guardian. Nessie preserved him from a civilization-ending asteroid strike so that he could help his descendants survive contact with an alien species 923,000 years, four months, and three days later. Then, he died again, merged with a worm-a-pede alien male who narrowly survived fulfilling his mating duties. They expired peacefully on a cliff top, pondering the nature of existence—and the promise of abominable liaisons.

Two deaths should be quite sufficient for any genius to endure.

Somehow, Nessie resurrected him from oblivion. His descendants needed him again. New hostile aliens roamed the Earth—along with an immortal, alien-human hybrid whose agenda was unclear. Was the healthy young body Nessie had prepared for him, along with the prospect of finally discovering "the meaning of it all" enough of a bribe to risk dying a third time?

Apparently so.