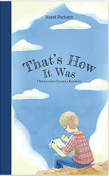 Genre -
Historical Fiction
LitPick Review

When Sarah asked her grandma about what her father was like as a child, she never expected such an answer. After finding out from her grandma that her father had written a book for school about his life at the farm when he was younger, Sarah sets out to find it. As she reads through her father's adventures on the farm, she learns more and more about how his childhood was. When Randy Ray (Sarah's father) wrote his ME book, he never imagined his kids would actually read it. He was just writing down what he noticed and some of his memories. And of course, he added all his funny ideas for what to do when he grew up!
Opinion:
I loved this book so much! Most of the book is written from a young boy's perspective as he navigates daily life on the farm, and the adventures he goes on are hilarious! I really liked how the author wrote the letters in a way that I can see a young boy writing them, being loose and informal. Due to the formatting of the way the book was written (through letters), I almost felt as if I was reading a series of short stories with all of his adventures. The one thing I did not like about this book was how it was a little hard to keep up with all of the names of the different characters. My favorite part about this story was how Randy wrapped up each letter talking about how his adventure connects with a potential job, which I felt tied the book together. Overall, I would recommend this book to readers of any age who like to read funny stories about adventures!
Explain your content rating:
This book is well suited for children.
KEYWORDS
CHARACTERISTICS AND EMOTIONS: