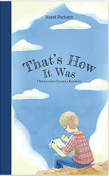 Genre -
Historical Fiction
LitPick Review

That's How it Was starts off with a 12-year-old girl named Sarah and her 10-year-old sister, Mel, wondering what their father's childhood was like. While the sisters are at their grandmother's house, they look through boxes in the attic to search for information about their dad's childhood. Sarah finds letters from her father to his future family which he was required to write for school, and while on her way home, she reads through them. She keeps the findings a secret and learns quite a lot about her dad from the letters. Sarah reads about her dad's struggles that he went through during his childhood and the good times that he also had. Sarah's father lost his dad, and this is one of the problems that she learns that her father faced as a young child. Additionally, she read about the struggles that he had with deciding what to do with his life. In addition to the difficult situations that Sarah learns her father faced, she also learns about good times he had spending time with his cousin and his family. Randy Ray, the father of Sarah and Mel, records his adventures and his two children read about them more than 30 years later.
Opinion:
That's How it Was is a book that presents a unique structure that the reader will encounter. Rather than have a typical narrator, information about Randy Ray's life is passed on to the readers through a series of letters, which were his assignments for a class in the past. While reading this novel, readers might find the unique structure to challenge their notions of a normal text format. I found the format to be slow and the lack of story structure made it difficult to follow. On the other hand, there were illustrations throughout which served to capture the scenes and align with the text, which made the book more entertaining to read. Also, readers would likely admire the sisters as characters because they were very quirky as seen through the lines that they said and their relationship with each other. Overall, this was a good book that readers will enjoy if they approach it with the understanding that it is a different structure than they are familar with in other books.
Explain your content rating:
There is nothing offensive and inappropriate in this book.
KEYWORDS
CHARACTERISTICS AND EMOTIONS:
ACTIVITIES, HOBBIES, PLACES, AND EVENTS: