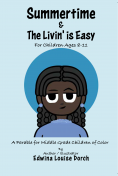 LitPick Review

Jasmine loves her brother Frankie and her Mama, and she's happy living with them even though their stepfather is very mean to her and Frankie. Jasmine always helps her mother out with cleaning the houses of the Harris family so Mama can provide for her and Frankie. She marvels at her mother's kindness such as when Mama buys milk for a homeless man even when they are low on money. One day after Mama and Jasmine get home from cleaning the Harris family's house, Stepfather tells Frankie and Jasmine to go to the store and buy some bread. So, Jasmine and Frankie set off, enjoying the summer day and each other's company. They fool around, and Jasmine ends up losing the money Stepfather has given them to pay for the bread. They try looking for it, but it has already turned dark. Unable to find the money, they return home empty-handed. Jasmine knows Stepfather will be very angry, and she is scared to tell him. Jasmine starts feeling hopeless, but her luck changes when she comes home. Her mother has a surprise for her that will turn her day around!
Opinion:
I really enjoyed reading this book. First of all, despite this being a relatively short story, the author did a phenomenal job of developing the characters. I really got to know Jasmine's upbeat and curious personality well, but also Frankie's wit and humor and the kindness of the Harris family. I also think the author did a great job of describing the different settings in the book. I could visualize the Harris's large house very well, as well as Jasmine's neighborhood. The pacing of the book was all perfect as I was able to read the story in one sitting without feeling bored or wanting to take a break. I also liked how the author was able to send a message of hope through the book. Overall, this is one of the best books I have ever read, and I highly recommend it to any reader! This book is perfect for young readers looking to independently read an early chapter book but also for older readers looking for a quick short story about hope!
Explain your content rating:
There is mentions of religion in this book, but it is very minimal.
KEYWORDS
CHARACTERISTICS AND EMOTIONS:
ACTIVITIES, HOBBIES, PLACES, AND EVENTS: