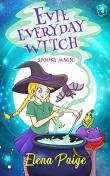 LitPick Review

WATCH THE LITPICK ANIMATED REVIEW VIDEO!

Moving away from Pergoria, her old school for witches, to Wyndemere Elementary, a "normal" school full of "normal" kids, is the best thing that has ever happened to Evie the Everyday Witch. In fact, the reason she likes Wyndemere so much is because she is the only witch there. Spooky Magic, the second book in the Evie the Everyday Witch series by Elena Paige starts as Evie has finally fit in at Wyndemere and has made a new best friend, Izzy.
She wishes her life would stay like this forever! But one day, Evie finds out that a new student is coming to Wyndemere. And what's worse, this new student isn't a "normal" student - she's a witch! When Evie gets to school the next day, she learns that the new witch is Veronica, her old enemy from Pergoria. But the greatest blow comes when Izzy asks Evie if she can sit with Veronica instead of Evie in class.
Evie is convinced that not only has Victoria replaced her as the only witch in Wyndemere but also as Izzy's best friend. That day, Veronica proposes that the class should have a Halloween magic competition. Their teacher, Mr. Sanders, says that whoever wins won't receive any homework for the rest of the term. But when Evie gets home, she learns that the stakes are much higher than being exempt from homework. In fact, the whole world of witches is relying on her to win this competition. Will she be able to prove herself to Veronica once and for all? Will she be able to save the rights of all the witches? And last but not least, will she be able to save her friendship with Izzy?
Opinion:
Spooky Magic, the second book in the Evie the Everyday Witch series by Elena Paige, is an action-filled book. Its complex antagonist vs. protagonist relationships made it really suspenseful and hard to put down. As the reader, I was quickly wrapped up in Evie's story, which took me on a constant rollercoaster of emotions. Spooky Magic has an easy-to-follow storyline and, in my opinion, the perfect number of characters. I would recommend reading Book 1 of the series before this book to get better acquainted with Evie's backstory. Besides being an entertaining read, this book teaches readers a number of important life lessons: the values of friendship, forgiveness, and perseverance. It also teaches young readers not to let difficult emotions get the best of them and that being yourself is always the best way to be. I would recommend this book to magic lovers ages 8-13.
Explain your content rating:
This book contained no mature, religious, or offensive content.
KEYWORDS
CHARACTERISTICS AND EMOTIONS: