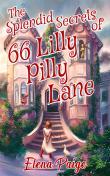 LitPick Review

Chia Gregola spends long days and cold nights slaving away in her family's mine. Unable to see since she was two years old, Chia fears her sister is suffering a much worse fate while living with their stepmother, Priscilla. Convinced there is nothing she can do to help, her only comfort is her constant companion and loyal friend, Pip. Deep in her heart, she dreams of somehow freeing herself and her sister from Priscilla's grasp. It all seems unattainable in the harsh reality of her situation. Overworked, separated from her sister, and scared, how can Chia survive? How can she attain her dream of escaping this nightmarish life and rescuing her beloved sister?
Opinion:
Overall I genuinely enjoyed reading The Splendid Secrets of 66 Lilly Pilly Lane. Its fast pace kept me entertained and interested in the plot. At times, I did find it emotionally intense, especially toward the end. I think it is a unique novel for teenage and adult readers. I am personally a big fan of anthropomorphism. Therefore, I enjoyed the varied range of delightful and intriguing characters in this novel.
Both Pip and Jeremy are over-the-top in antics and descriptions. For example, Pip is often excessive in his response to situations and changes his positions. When he meets Heidi, he goes within a few moments from, "Don't put me down. Not ever," (because Jeremy threatens him) to, "Put me down. I'm in love." Furthermore, because Jeremy is initially in the form of a pink fox, I think that makes his sarcastic witticism and constant banter with Pip more exaggerated.

Explain your content rating:
I did not find any mature language or situations while reading this novel.
KEYWORDS
CHARACTERISTICS AND EMOTIONS:
ACTIVITIES, HOBBIES, PLACES, AND EVENTS: