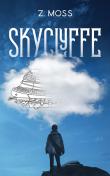 LitPick Review

Rex finally gets to take a vacation, even if it is only to his aunt and uncle's house. He's excited to spend the summer away from home and to ride in an airplane for the first time. As an artist, Rex tends to notice things others might not so when he sees a strange-looking cloud from the plane he is intrigued and quickly draws it.
His aunt and uncle's house isn't what he'd expected. His aunt is strangely forgetful, and his uncle is a jerk. Having been bullied for a while now, Rex finds it easier to avoid conflict than to stand up for himself. Despite not quite liking him, Rex jumps at the chance when his uncle offers to take him and his mom up in his small plane, the Beaver. The ride in the Beaver starts out exhilaratingly normal for a plane ride, but when they reach cloud cover, things get weird.
When the plane settles, they are in some sort of flying aircraft with possible aliens circling in. It turns out they are on an aircraft that houses a whole society! Faced with the prospect of never returning home, Rex must decide whether or not to stay in the relative utopian society that abducted him, his uncle, and his mom...or to return home to a normal but increasingly troubled Earth.
Opinion:
I was unimpressed with the beginning of the story, but as the narrtive progressed I found myself hanging on every word. This novel provides a fascinating new look into the idea of societies evading detection. The complexity and detail of the society that lives in the sky are fascinating, while its moral struggles are equally intriguing.
Rex's inner conflict is relatable and frustrating as he finds himself in a place where he has little sway over what he can do. I enjoyed the progression of the novel and the many pitfalls of Rex as he lives in Skyclyffe. However, I found the ending was expected from the very beginning. It is vaguely foreshadowed when Rex first meets the Sky'ans but becomes more obvious as the story progresses. On the other hand, the path that gets to the ending is very interesting and worthwhile to follow. In short, this novel is a fun read and a good look into how societies view different cultural norms.
Explain your content rating:
There are no curse words or sexual content.
KEYWORDS
CHARACTERISTICS AND EMOTIONS:
ACTIVITIES, HOBBIES, PLACES, AND EVENTS: