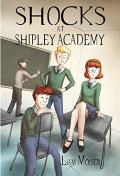 Student Review

Olivia Wilson lives with her dad, Mr. Wilson. Not far from their house lives James, her twin brother. Because their parents wanted James and Olivia to be kept apart, they never told James and Olivia the truth about each other. One day, Olivia and James go out for a picnic on the mini hill between the two houses. James tells Olivia that it was kind of her father to let her take time off from studying and being a lady in order to join him. Olivia exposes a guilty look. James asks if she really had permission. Just then, her father comes storming up the hill. He forbids them to ever see each other again, and to keep them apart, he tells Olivia that she will have to go to a different school.
Mr. Wilson and James' mother, Miss Clarkson, talk. Miss Clarkson tells Mr. Willson that he can't keep the twins apart. After a while, Olivia finds out that James is enrolled in her school too.
One day, two men break into the academy. The children run to get out. Do they make it? Do they figure out who broke into the school and why? Will they find out they are twins? Join Olivia and James in this adventure novel, The Shocks at Shipley Academy by Liam Moiser.
Opinion:
I loved this book, and it was well-organized. The author did an incredible job writing a fast-paced story with well-developed characters. My favorite parts were when they were having their picnic and when they found out information about James and Olivia's parents. This book deserves five stars. It was hard to put down. I recommend this novel for children ten and older who are in search of an adventure.
Explain your content rating:
There is nothing offensive in this book.
KEYWORDS
CHARACTERISTICS AND EMOTIONS:
ACTIVITIES, HOBBIES, PLACES, AND EVENTS: