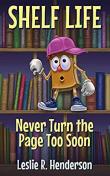 LitPick Review

Have you ever read a book about a book? If you haven't, what are you waiting for? Shelf Life: Never Turn the Page Too Soon is a humorous story that follows self-published Little Book. He lives a perfect life with his author, Paige Turner, except when it isn't so perfect anymore. One night, Little Book wakes up to find that Paige has discarded him in the donation bin at the local bookstore.
Little Book is frightened. He keeps hoping that Paige will return to him, but when she never comes, he decides to wander around the bookstore to gauge his surroundings. Along the way, Little Book meets two prankster twins, Cletus and Clyde. They give him a crash course of everything he needs to know about the bookstore: it's policed by robots named Space Arrangers, and a fierce man named Ranger Depth commands them. Worst of all, Cletus and Clyde warn him about the fate of unwanted novels: unrecognizable confetti after being fed to the industrial-sized paper-shredder, the Lyons! Just the thought of it has Little Book quaking in his boots.

But Little Book has a plan, however far-fetched it may be. He is going to be a bestseller. If he's a bestseller, he won't get fed to the Lyons. And maybe, just maybe, his popularity will entice his beloved author to come back to him. But how far will Little Book go to become a bestseller, or rather, pretend to be one? And how long until Ranger Depth and his threatening Space Arrangers catch on to the act?
Opinion:
This book was such fun to read! Just the premise of "a book about a book" was fascinating, but Shelf Life exceeded my expectations in many other aspects. From the humorous characters such as the cryptic twins, down to the clever names like Millie Meter and Count Booksula, I was constantly hooked. The dialogue was wonderful, complete with accents and inflections. I even found myself holding my breath at a particularly anxious moment! The main scuffle was between Little Book and Ranger Depth, but there was plenty of internal conflicts to sustain the less action-packed scenes as well.
I was a bit confused by the limitations of the world, however. There was a large mix of character species—humans, books, even characters from those books—who could all speak to each other. This begs the question, can the books speak to customers in the bookstore? For example, can they convince humans to buy them during open hours? It was never mentioned one way or the other, which was quite perplexing. I would have loved to understand more about how these groups communicate with each other.
All in all, though, this book was very unique. It reads almost like a fable but with opinionated and faceted characters, which I'm all for. I'm already looking into its sequel!
KEYWORDS
CHARACTERISTICS AND EMOTIONS: