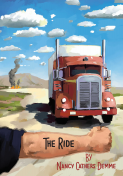 Student Review

Age at time of review - 16
Reviewer's Location -
Spring Hill,
Tennessee,
United States
View moseso's profile
Fire. It's always fire. He loves it. What happens, however, when his obsession with fire results in a possible murder? This is the impossible question facing Diego Rivera, a 15-year-old, who thinks he killed his abusive step-father in a fire he caused. Now, Diego decides to run and hitchhike across unknown areas of Texas in order to avoid his fate. Escaping guilt and responsibility, however, is not as easy as sticking out a fist and catching the next ride.
The Ride, by Nancy Demme, is a wild trip that details not only the confusion of an adolescent, but also a boy's journey to find his way in the world. Nonstop action and adventure along with a colorful cast of constantly changing characters make this book a must-read!
Opinion:
The Ride is one of the most intriguing stories I've ever come across. The book itself did not capture and keep my attention as much as I was expecting, but the overall plot and characters are worth praising.
The idea of a teenage boy with a psychological attachment to fire is remarkably unique, and I believe the author handled it and worked with this character quirk extremely well. As this obsession is the driving force behind the plot's main conflict and kickstarts the entire story (Diego torching the barn where his stepdad is working), it is important that author portrays it correctly, and I believe Nancy Demme did this wonderfully!
The colorful cast of characters throughout Diego's hitchhiking journey honestly make the book. They are each so different and distinct and represent exactly how diverse the Earth is. It is extremely enjoyable to meet each and every one of the new characters and watch how they interact with Diego and move his journey along.
In conclusion, I thought the plot and characters in this story were thought-out and portrayed with skill and expertise. My one "complaint" is that the story didn't necessarily capture my attention as much as analyzing the characters did. However, this book is definitely worth reading, and I do recommend it for more mature children and teens.
Explain your content rating:
This story's main character was abused, which led to him setting the fire that he believes to have killed his stepfather. A few of the people Diego meets along his journey also don't have the best intentions or character. Simply be aware of what this book is about before reading.
KEYWORDS
CHARACTERISTICS AND EMOTIONS:
ACTIVITIES, HOBBIES, PLACES, AND EVENTS: