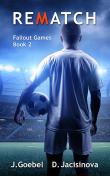 LitPick Review

Decades after a nuclear war destroys much of the planet and the government is forced to change, brothers Jason and Nate decide to switch places near the end of the big soccer tournament so Jason can take their family to Canada. Nate has a lot of pressure on himself that game because if they lose, their family will be killed by the president. The game does not end well.
Jason and his family start heading to Canada, but they get stuck in a pothole. A man comes out and helps them. He brings them to a building that the government doesn't know about. The people who live there have been preparing for many years in case another nuclear bomb hits.
They let the family stay a few nights. They give them food and help them get their car unstuck. When the family finally gets to Canada, Jason and a few of his friends go back to get his brother, Nate. As that is happening, Nate and his soccer friends head to Canada to get Jason for the rematch of the game. They all get together and head back to the training facility. From there, they get ready to fly to Brazil for the rematch. When they get to Brazil, they start training right away. But soon they realize one of their teammates is missing. Will they find their missing teammate by the time the rematch comes?
Opinion:
This is the second book in the series, and it was really good. I would suggest reading book one, Tournament, before reading Rematch, or it will be kind of confusing. I enjoyed the friendships the main characters had with each other. I also enjoyed the people at the building and the schemes they had going on. This book is full of mystery, friendships, teamwork, and hard work. I liked how I thought I knew someone and then later they showed a different side of themselves. I loved how they took a soccer story and added mystery, friendships, and suspense. There were parts where I could not put the book down because I needed to figure out what was going to happen, like when they were going to find their friend that went missing. At first, I didn't know if I would like it because sports books aren't my favorite, but as I was reading I knew I would love this book because it didn't actually have much sport stuff in it. I'm really glad I read this book!
Explain your content rating:
No swear words or anything else bad.
KEYWORDS
CHARACTERISTICS AND EMOTIONS:
ACTIVITIES, HOBBIES, PLACES, AND EVENTS: