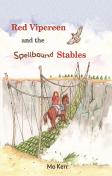 LitPick Review

Holly Goodchild has a happy life living with her parents and brother Edwin, even if their family doesn't have the most money. This changes one day when her father mysteriously disappears, which their mom explains as him going abroad to work. A few days later, their mom disappears as well, and Holly and Edwin are taken to a home for orphans. This home turns out to secretly be a witches' lair where the children are forced to do chores and work for the witches. Holly finally figures out a way to escape the witches, and she and Edwin go to live with their Aunt and Uncle in Strawbridge. Things finally seem to be getting better for them too, and their Uncle even lands a big job with the Prince! Soon, however, Edwin and Holly realize that there is a big danger coming to the kingdom... and they must be the ones to stop it.
Opinion:
Overall, I enjoyed reading this book. The first thing that I liked was the many settings in this book and how each one was described in a lot of detail. The various settings made the story more exciting, and I was able to imagine what was going on due to the imagery given by the author. Another thing that I liked was the pacing of the plot; it started slowly and picked up as the story progressed, which made me want to continue reading the story. Lastly, I enjoyed the backstory given for all the characters including the supporting characters such as Prince Rupert and Madame Fosse. I think this added to the plot of the story, and made the characters more complex, which I enjoyed. I highly recommend this book to readers looking for a book full of magic and adventure!
Explain your content rating:
There is nothing offensive in this book.
KEYWORDS
CHARACTERISTICS AND EMOTIONS: