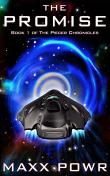 LitPick Review

The Promise: Book 1 of the Piecer Chronicles, begins with the "graduation" of the Piecer Corp. Brothers Chase and Loose, and their corp friends. are graduating from the only life they've ever known. Twenty years before, the Earth was invaded by the Klix in the Great War. The Sixers, a group of genetically engineered soldiers, saved the Earth from the Klix, but on the day of graduation, the Klix return with a vengeance. At least one of them has supported the enemy!
The well-trained Piecer graduates take it upon themselves to stop the enemy and save their families. They bring the Promise ship out of retirement, and use it to fight their enemies throughout the solar system and perhaps among themselves. Where do loyalties lie? Do they save their families? Do they save the Earth from the Klix? Is there the potential for love, despite the galaxy wars? What is the true meaning of "The Promise"?
Opinion:
The Promise: Book 1 of the Piecer Chronicles is an engaging and riveting novel. Most of the time while reading, I was on the edge of my seat. The characters are highly developed, initially through dialogue and then through action-based experiences as the setting flips between past and present with ease and seamlessness. A love interest (or two) supports the ultimate purpose for saving the Earth and balances the action scenes. Powr's dialogue-based description of events enhances the speed and pacing of the narrative. The Promise reads almost like a screenplay. In fact, I can envision this novel on the big screen one day. I imagine The Promise will be followed by an equally captivating sequel.
Explain your content rating:
The Promise uses a lot of offensive language to develop the characters and includes some "love" scenes that are appropriate only for mature readers.
KEYWORDS
CHARACTERISTICS AND EMOTIONS:
ACTIVITIES, HOBBIES, PLACES, AND EVENTS: