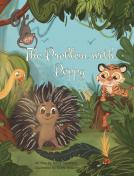 LitPick Review

Poppy has a problem. She's been mistreated by others, so to prevent that from happening again, whenever anyone comes close, she "stomps her feet, rattles her quills and hisses loudly" to scare them away. This works…too well. One day a playful tiger cub wanders into Poppy's life. Instead of giving him a chance, she does what she always does and scares him away. That's when it happens: Poppy realizes that she is lonely for a friend and that she must change. Will she be able to find him again? And if so, will he give her another chance?
Opinion:
The Problem with Poppy is a treasure trove of alliterated, humorously illustrated lessons about learning to trust others and letting go of past hurtful events. Writer Emma Sandford tells a captivating tale of two lovable creatures discovering unlikely friendship and then quickly finding out what true loyalty means. Parents will appreciate the higher-level vocabulary and lessons in biology organically spun into the story. An example is when Poppy says, "It's no use, I'm a porcupine. I can't see very well." Illustrator Olena Osadcha brings vivid personality to the rain forest characters, imbuing their expressions with undeniable humor and flair. Book 1 in The Sumatran Trilogy, The Problem with Poppy is entertaining, beautifully illustrated, and educational. Its setting is the Sumatran Rain Forest in the Leuser Ecosystem, Indonesia, a safe haven for critically endangered creatures, such as the book's characters, a Sumatran porcupine and a Sumatran tiger. As a bonus, a portion of the book's price is donated to Rainforest Trust UK with every sale.
Explain your content rating:
An excellent book that supports a great cause.
KEYWORDS
CHARACTERISTICS AND EMOTIONS:
ACTIVITIES, HOBBIES, PLACES, AND EVENTS: