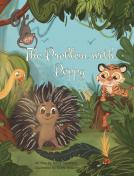 The Problem with Poppy
Poppy the porcupine has always wanted to make a friend, but her defensive nature prevents her. When a young tiger cub stumbles upon her one day in the rainforest, she reacts badly and scares him away.

Determined to change her ways, she sets out to find him, but little does she know that the tiger cub is about to have a problem of his own. In the face of danger, will Poppy find a way to save the day?

The Problem with Poppy is an award-winning picture book aimed at children aged 4-8 and is the debut by British author Emma Sandford. Illustrated by Ukrainian artist Olena Osadcha. The book is the first in a series called The Sumatran Trilogy. The second book, What's Troubling Tawny?, will be published in December 2021 and the third book, Hooray for Heidi!, will be published in June 2022.