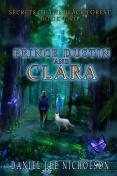 LitPick Review


Clara is a 12-year-old ballerina who lives in her "hometown" and can be brought to the Nutcracker world by Prince Dustin, a Nutcracker. They go on a journey to save Princess Sugar Plum, Prince Dustin's adopted fairy sister who was captured by the horrible Egon. They then realize that they must save the whole Nutcracker realm from Egon. Herr Drosselmeyer, Clara's uncle, who is a wizard, is helping Egon. Clara is very confused as to why her uncle is helping Egon. Will Prince Dustin and Clara be able to save Princess Sugar Plum? Will they be able to save the kingdoms in the Nutcracker realm? Or will Egon take over?
Opinion:
Prince Dustin and Clara: Secrets of the Black Forest was a very engaging book. I have never read a book that is a retelling of the Nutcracker. Even though this book was a sequel, it can be read as a standalone. The end of each chapter usually had a cliffhanger that left me on the edge of my seat. The author did an amazing job hooking the reader in the story to keep them reading more. I like the fantasy elements, such as the animals could talk. I will definitely buy the first one to read more about this world. I would recommend this book for ages 10 and up.
Explain your content rating:
There is nothing offensive in this book.
KEYWORDS
ACTIVITIES, HOBBIES, PLACES, AND EVENTS: