Prince Dustin and Clara: Secrets of the Black Forest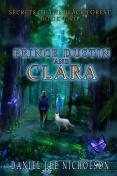 Prince Dustin and Clara: Secrets of the Black Forest
Time is running out! Prince Dustin and Clara only have three days to save the kingdoms deep in the Black Forest. They must journey even deeper into the woods, a mystical and perilous realm of magic, enchantment and monstrous creatures. Clara soon discovers why those that travel to this faraway land seldom return to tell their tales. They never suspect that Clara's uncle, Herr Drosselmeyer, a powerful wizard, has a dark secret that becomes their biggest challenge.
The thrilling adventure continues for 12-year old Clara and Prince Dustin, as Clara returns to the Land of Legends, a magical place of creatures and animals; a brave prince, fairy tale princesses, and a Snow Queen.
Prince Dustin and Clara ... a classic tale of fantasy and adventure!