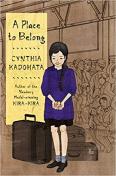 Genre -
Historical Fiction
LitPick Review

First, Hanako had to try to be more American, but now she has to try to be more Japanese. Hanako's life wasn't so bad from the start. Her parents are both Japanese and moved to America when they were young adults. Hanako's family owns a restaurant, Hanako's father's pride and joy. Then, on December 7, 1941, when Pearl Harbor is attacked, Hanako's life is changed and will never be the same again.
Hanako's family and all the other Japanese-Americans were forced to go to internment camps, even though they were innocent. Hanako's family decides to move back to Hiroshima, Japan, where Hanako's father's parents live. Hanako and her family are unaware of the devastation in Hiroshima from the atomic bomb.
Hanako is faced with big decisions, some she feels she cannot handle. Will Hanako's life somehow come together again after being broken?
Opinion:
A Place To Belong is a heart-warming book. One really great thing about this book is that you can feel how Hanako feels. The author does a great job with this. The characters all have rich personalities, and all of the characters are unique. Another thing I liked about this book was that it was realistic. Some realistic fiction books really don't seem as realistic as A Place To Belong. The book also included a section in the back where it talked about the true events mentioned in the story. If you like historical fiction books, A Place To Belong would be a great one to read.
Explain your content rating:
This book is a good book for older kids, and there is nothing offensive in it!
KEYWORDS
CHARACTERISTICS AND EMOTIONS:
ACTIVITIES, HOBBIES, PLACES, AND EVENTS: