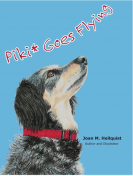 LitPick Review

Piki, "the mischievous and independent" service dog, goes on her second adventure in the new picture book Piki Goes Flying. Piki's first adventure took her to college. In Piki's second book, she is learning all about airports, airplanes, and how to be a well-behaved service dog when taking your first flight. Piki takes the flight with her favorite human, her owner Joan, and along the way they meet concerned travelers and see many new strange things. Joan trains Piki, before their trip, to do new tricks like the "lawn chair squeeze." Piki also meets the Captain and is given her own pilot wings. Joan makes sure to help Piki understand how to follow her throughout the trip: through the airport and security, in the elevators, in the large airport bathrooms, and especially how to lay quietly under her seat during the flights. Piki is well-behaved throughout the trip but occasionally is up to her independent but familiar dog ways.
Opinion:
Piki Goes Flying is creatively illustrated and playfully written from Piki's inquisitive perspective. Children and adults will enjoy reading this travel adventure together, especially if they have, or are going to travel with their pets or service animals. I would also recommend this book as an excellent story for children to read who are anxious about their own first flight on an airplane. The picture book is well-written and excellently edited. The illustrations take an outward observer's view of Joan and Piki as they travel and is seen at times from the vantage point of Piki as she learns new things. The illustrator perfectly captures her dog Piki's likeness as the reader can compare in the picture of Joan and Piki following the story. There is also an educational aspect to the picture book. The reader is educated on airport vocabulary and provided with several pages about the latest service dog forms and rules.
Explain your content rating:
Educational and family-friendly.
KEYWORDS
CHARACTERISTICS AND EMOTIONS: