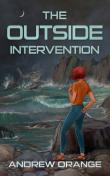 Age Range -
Mature Young Adult
LitPick Review

The world is tearing itself apart, and Kier Vorsmith is the only one willing to destroy it in the hopes of building a better one. He has finally gained freedom for himself after his latest experiences with governmental deception and familial betrayals. However, as an out (one who can control the minds of others), even his freedom is guided by the eyes of the emperor. Captain Dark has gone to great lengths to lure Kier into a high-power post, convincing him that his freedom and morals are unimportant when compared to the agenda of the emperor. Kier's abilities could tip the balance of political control.
Besides his struggle with politics, Kier is exposed to some of the disgusting normalities of his society when he becomes the owner of Katrina, a processed sex slave. His relationship with Katrina results in a manifestion of the unknown, beastly side of himself. Through self-control and communication, Kier learns to truly love her, letting her teach him about the world from the perspective of one not in power. This love soon become synonymous with Kier's desires to destroy the empire and be free from society
Between Katrina and Captain Dark, Kier struggles with his own idealogies. He is constantly questioning theories on religion, universal existence, moral murder, democracy, and the division of political power among the rungs of society. His questions and explanations are slowly molded by the extreme events that occur in this book.
Opinion:
This book really forced me to think about my own idealogies. I believe that Kier represents all of us. Everyday, we are bombarded by different theories and pieces of knowledge that have no consistency in whether they support or denounce each other. It's a struggle to find what you really believe in when it's guaranteed that another school of thought will be telling you it's wrong. On a daily basis, Kier is facing that struggle. With a corrupted government, he is constantly questioning what the right way to rule is. With his corrupted relationship with Katrina, he is constantly questioning what is love and what are the boundaries for who deserves love and who gives it. With a corrupted society, he is constantly questioning why people exist and whether there is really a God who watches and cares, or whether their lives are meaningless and everyone has the right to take what they want by any means that they want.
In a more technical sense, I will say that the way that Kier goes about facing these struggles was not very well written. While I understood the mental growth he was growing through, the dialogue between him and other charcters, including the dialogue with himself, was extremely dry. I felt very little emotion from Kier because of how little he was characterized during these deep conversations; I was hearing the author's opinions, not Kier's.
I am currently a senior in college in an Editing and Publishing major, so I've had experience with editing full manuscripts at all stages of editing. I appreciated the style that the author created for this world, but often there was a fluctation between the deep-thinking and flowery-speaking Kier who wanted to change the world and the teenager Kier that I might encounter in a high school. Consistency is something that this novel could greatly benefit from.
In term of Katrina's character, I understand that her situation is something akin to lives that are lived in our own society. However, even the lowest characters of our society could be written in a way that evoked more emotion. I can understand if the author was meaning to invoke rage and disgust for the gritty, sexual offenses in the lower rungs of the world, but I would've liked it more if I was also able to feel some sort of call to action in my own world. I did not feel sorrow or a desire for a better life for the characters because I was not able to build a connection with the characters.
Overall, I feel like this book had a lot of good ideas and plot lines that could be fleshed out into an extremely powerful story. It just needs some more polishing.
Explain your content rating:
In terms of language, profanity is a normal occurrence. In terms of topics, there are many scenes surrounding rape and aggressive, mindless sex.
KEYWORDS
ACTIVITIES, HOBBIES, PLACES, AND EVENTS: