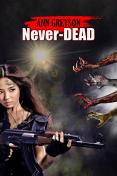 LitPick Review

On the morning of December 21, 2012, everyone awakens to a normal day...or so they thought! The Mayans warned about it. Because today the dead have risen to attack, and those who are attacked too become Never Dead. Hannah and Jenna are sisters who find themselves separated by hundreds of miles and a growing pack of zombies.
Jenna has just left college and had plans to move back in with her father when she's caught in the middle of one of the first waves of Never Dead. Hannah works in a secret underground facility that specializes in diseases, but they never thought they'd find what is behind the cause of the zombie virus!
Together with a cast of characters that includes an army serviceman on the front lines, a shopkeeper's daughter turned militant, and a scientist who's making remarkable discoveries, Hannah and Jenna must attempt to make it through this new threat alive and unbitten. Will they make it? Will they reunite against all odds? And, will the living be able to defeat the Never Dead?
Opinion:
Never-DEAD really intrigued me right from the beginning! The setup in the prologue and beginning chapter remind me of writers like Michael Crichton and Dan Brown. The author introduces readers to a cast of seemingly disconnected characters whom you soon discover all hold different pieces to the same story. I enjoyed being led into the story in this way, learning along with the main characters what is going on across the world and what it could mean for humanity. The introduction of new characters through their differing points-of-view throughout the novel is also well done. Sometimes shifting POVs can be choppy in novels, but Greyson gives enough background and emotion to each character to provide merit.
I suggest this novel for readers ages 15 and up, more because of the length and science behind the novel. Anyone with an interest in science fiction, apocalypse fiction, or simply zombies should enjoy this read. Last, the added twist of the Mayan calendar angle weaves some great historical and science facts into the story. It takes no time at all to become invested in the narrative, and the ending is sure to please even the most avid zombie readers.
Explain your content rating:
KEYWORDS
ACTIVITIES, HOBBIES, PLACES, AND EVENTS: