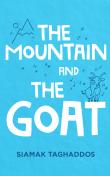 LitPick Review

The Mountain and the Goat is a picture book where one thing leads to another. In this book, the theme shows the reader that if you give someone something they need, then this person will return the favor. In this story, the narrator gives an object to someone, and the receiver pays the narrator back by giving him another object. Then the narrator shares the received gift with another person. It is a continuous cycle throughout the book involving the narrator and various characters. This book offers a great moral lesson for readers, and the book includes various unique characters that accurately reflect the people of the world. Toward the end of the book, the author portrays a heartwarming depiction of a father-child bond that closes off the story and shows the significance of the trading lesson of the story.
Opinion:
The Mountain and the Goat, in my opinion, is a very good children's book. If I would describe this book in three words, I would say it is fun, sweet, and enjoyable. I would say it's fun because the story unfolds to many different characters and events that keep readers entertained. I would say it's sweet because at the end of the book, the narrator and his/her dad spend time together in a heartwarming and loving way. I would say it is enjoyable because I liked and enjoyed the lesson the book offered.
This book is great for all ages, but I think it is more geared toward younger people, since it is a picture book and offers a beneficial lesson for readers. Overall, I would rate this book 5 of 5 stars because of the various characters, the heartwarming ending, and the significant moral lesson.
KEYWORDS
CHARACTERISTICS AND EMOTIONS: