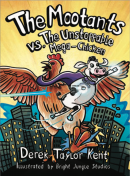 LitPick Review

Kyma the calf has always found her life at Lumpke Farm to be boring. She can't help but wonder what is beyond the fenced area she stays in with all the other cows and calves. So when Jerry, one of the chickens from the farm, tells her he has a plan to help her escape, she starts to consider it. Kyma learns that she and the other calves are going to be entered into the cutest calf competition, and she realizes that this would be a good time for her to escape. At the competition, she escapes and meets up with Jerry who takes her to meet Dr.Eggsplatt, a human who has been hypnotized into believing he is a chicken. Dr.Eggsplatt tells Kyma about his mission to save all farm animals from ever being eaten and to help them escape. He tells her that he needs Kyma's help testing out his latest invention, a formula called Blooze that helps an animal's biggest desire come true. Kyma drinks a gulp of it and goes back to the fair where she discovers that she can do any trick she wants! At first, Kyma is excited about Dr.Eggsplatt's Blooze, but soon it seems that his intentions are not as good as they seem. Can Kyma stop Dr.Eggsplatt before his plan goes out of hand?
Opinion:
Overall, I really enjoyed this book. The book was relatively fast-paced, which I enjoyed because there were no parts of the story that felt like they were being dragged out. Additionally, the story itself was funny, and I think the author did a great job of telling the story from a calf's perspective. Little details such as mentioning that Kyma sees the red farm as a yellow color due to being a cow made it seem realistic that we were reading from a calf's perspective. The illustrations in this book were very helpful as they often had writing that provided details beyond just what was said in the text. Adding on to this, the author did a great job of capturing the sassy and curious tone of a young calf through the character of Kyma. I highly recommend this book to anyone looking for a funny story of a calf and an evil giant chicken!
Explain your content rating:
This book is meant for and appropriate for children.
KEYWORDS