The Mootants vs. The Unstoppable Mega-Chicken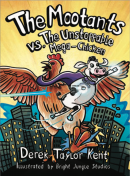 The Mootants vs. The Unstoppable Mega-Chicken
Have you 'herd' about the Mootants?

They're moo-pendous!
They're curd-rageous!
They power-full...of milk!

When a monstrous and fowl creation Threatens the whole population, These young, heroic cattle Are eager to fly into battle. They are...the Mootants!

This first book book of a thrilling and hilarious new middle-grade series by best-selling, award-winning author Derek Taylor Kent combines the art and humor of comic books with the literary excitement of chapter books. Life on the farm has never been so hair-raising! Join the Mootants as they save our hides from an un-beakable villain bent on world chicken domination. The perfect book for reluctant readers and transitional readers from picture books to chapter books.