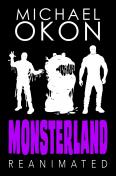 Age Range -
Mature Young Adult
LitPick Review

It's been weeks since the destruction of the world, which we know exploded in Monsterland, the first book in this series, as the survivors start to pick up the pieces. It's been weeks since the megalomaniac Vincent Konrad was pulled apart by one of his own monsters. It's been weeks, and everything has been quiet. ...Or has it? Something—or maybe many things—survived the destruction of Monsterland, and they aren't quietly going away. No, they're jump-starting Plan B! Once again, Wyatt and his friends must fight their way to survival and take down the monsters around them. But this time the monsters won't be so identifiable, and neither will their allies.
Join the story's main character, Wyatt, as he encounters new friends, old (but slightly new) friends, and a whole new host of monsters while venturing beyond the borders of Copper Valley in an attempt to save those who are still alive. Scream in terror as they learn why surrounding towns are suddenly filled with bodies. Shrink in fright as Plan B is revealed. And shout encouragement to Wyatt and his crew as they fight back.
Opinion:
Monsterland Reanimated is a great ride of a read! It picks up right at the end of the first in the series and leaves the reader ready for the next adventure! The author does an excellent job of establishing characters, as the reader really gets a feel for why they make the decisions they do. This includes the pure mania that is Vincent Konrad and the idol worship that is Igor. I did not read the first in the series, and doing so would have helped me fully understand the details of this novel. Events and characters are often referred to from the previous novel, and that would have given me more insight into the unfoldings in this second installment. Due to violence, I recommend this book for readers, age 12 and up, who love science fiction, action, and especially monsters!
Explain your content rating:
Violence includes guns, killing, dead bodies, and gore.
KEYWORDS