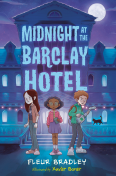 LitPick Review

Would you attend a weekend getaway at a haunted hotel? For JJ, accepting an invitation to The Barclay Hotel is a dream come true. But when he learns that his mom is the suspect in a murder that needs solving before he can leave, things quickly change from exciting to eerie. With two new friends in tow, Penny, a future detective, and Emma, a strange girl who resides at The Barclay Hotel, JJ spends the weekend investigating four suspects. Of course, he leaves plenty of time for ghost hunting. After all, he is determined to prove that ghosts DO exist. Remember, though, that everyone has a secret, including JJ, and things hardly ever go as planned.
Opinion:
Fleur Bradley's Midnight at the Barclay Hotel is a murder mystery perfect for the reluctant reader. With short chapters and a diverse cast of characters, the reader will never expect what may happen next. The omniscient narrator uses a humorous tone, seemingly speaking directly to the reader. I found this to be a clever way for the author to support inferential skills, as well as give insight into the characters' thinking. With appropriate readability for grades 4 and up, Bradley uses a combination of rich vocabulary and a simple text format to engage young readers who enjoy suspense, and incorporate the theme of friendship, teamwork, and problem solving. Additionally, the occasional illustrations throughout the book help the reader to visualize the setting and characters more clearly. I highly recommend adding Midnight at the Barclay Hotel to your library.
Explain your content rating:
This book is a great mystery for young, reluctant readers. It depicts relatable characters through an light-hearted writing style. I would caution the adult to consider your audience before sharing this book, as some students may be sensitive to the idea of a murder investigation, and discussion of familial death.
KEYWORDS
ACTIVITIES, HOBBIES, PLACES, AND EVENTS: