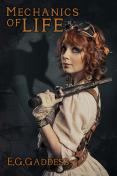 LitPick Review

Age at time of review - 18
Reviewer's Location -
Cabuyao City,
Laguna,
Philippines
View 4332's profile
Steampunk meets Sherlock in this delightful novel set in London. When Quillian Watson, apprentice to Dr. M, nears the achievement of her dreams to be a surgeon, the winds change. When a boy needing a mechanical arm dies on their operating table, it heralds the first of many clues that not everything is as it seems: prostitutes disappearing, shadows from her past, and a dashing Greyson Holmes enter her previously peaceful life. Eased into intrigue and mystery, Quillian, with the trusty help of Greyson, have to solve this case and uncover Quillian's past… before it's too late.
Opinion:
A charming story that I absolutely loved! Being an avid fan of Sherlock stories, this was one book I immediately took the opportunity to review (although it took me some time to gather my thoughts). I can say I didn't regret it.
For one, Quillian is a charming girl with her street smarts and her warm demeanor, and when she is coupled with cold, calculating Greyson, she shines all the more. Her journey throughout the book is well-paced, and I appreciate how she is apprenticed to a doctor (my dream job).
As for Greyson, I also loved how he is much like the typical Sherlock, albeit much more childish and yet quite mature. His reluctant liking of Quillian is adorable and cute; it had me chuckling more than one time while I read.
The world itself is close enough to our world to be comfortable and rather easy to get into. I liked how the world's special traits also fit in well with the plot and plays a large role.
I've only one point of complaint: the ending was a bit abrupt, but I hope this hints at a sequel, which I will be very happy to read next.
All in all, this a very recommended book, especially for Sherlock and steampunk fans. It is best enjoyed by ages 13 above with a cup of tea and scones to accompany it.
KEYWORDS
CHARACTERISTICS AND EMOTIONS:
ACTIVITIES, HOBBIES, PLACES, AND EVENTS: