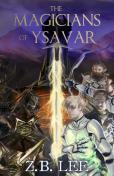 LitPick Review

The Magicians of Ysavar is a story about a boy by the name of Johan. His goal is to become a Guardian of his city, a police officer of sorts. However, he fails the test to get in. Then, not far from the night he got rejected, a mysterious, short man arrives, telling him that he has been chosen to be recruited into the Order of Ysavar, a group of magicians that fight evil. He realizes that the world is on the brink of destruction, and goblins are ready to destroy humanity. If he succeeds and defeats the goblins, he will save millions, just as he always has dreamed about. If he fails, humanity will be gone… forever.
Opinion:
The Magicians of Ysavar is a great book about magic. There are multiple things that I really liked about this book. The first is the excellent pace. The book is fast-paced and action-packed. The entire story is around 175 pages long, and everything that happens in the story lasts about 1-2 months. It has the perfect pace. The author also does a great job creating the setting. There are multiple ways in which this happens. The first one is a very helpful map that is provided at the start of the book as well as some lore in the form of dialogue scattered throughout the book. Finally, the plot is very funny and exciting. The jokes told by the characters lighten the story and the quick pace helps to create excitement.
There was only one thing I did not like about the book. Near the end, I felt it was slightly hard to keep up with everything that was happening at the time, and I felt like there should have been a breather to let readers process what happened.
All in all, I feel this was a very good read about magic, magical creatures, and adventure. I give this book 5/5 stars and recommend it for anyone 11 and up. Have fun reading it!
Explain your content rating:
Just a fun fantasy read about magic. Nothing offensive.
KEYWORDS
ACTIVITIES, HOBBIES, PLACES, AND EVENTS: