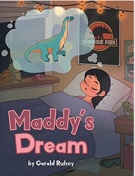 LitPick Review

One day, Maddy and Grace are having a nice picnic in the jungle. The weather was perfect, and they were having a great time eating the delicious food they packed. All of a sudden, they hear a roar! A T-Rex emerges from within the jungle, and to Maddy and Grace's surprise, he quickly eats them up! Lucky for them, the T-Rex starts to feel sick and throws them up. The T-Rex runs away, leaving Maddy and Grace stranded on the jungle floor. They see another dinosaur approach, this one a baby, and get scared they will get eaten again! The baby dinosaur turns out to be very nice, and he tells Maddy and Grace he will help them get home! So onto the baby dinosaur's back they hop and start on their journey back home! On the journey home, they visit a beautiful pond to clean off and a clothing store with a very kind owner before finally making it home! Maddy and Grace are very happy and introduce the baby dinosaur as a hero to all their friends and family! Maddy and Grace are glad their story got a happy ending, even if it was all in Maddy's dream!
Opinion:
I really enjoyed reading this story. I liked how the story started off realistic with Maddy and Grace enjoying a picnic and quickly turned into a fantasy adventure with Maddy and Grace encountering talking dinosaurs. The author's way of revealing that the story was all part of Maddy's dream at the very end of the book was a good finishing touch as it allowed the magic of the talking dinosaur to remain until then! I also enjoyed that the pacing of this story was very quick since I think this added to the suspense and adventurous aspects of the story. The colorful illustrations showcase the many settings such as the jungle. We are also able to see what the different dinosaurs look like! Throughout the story, Maddy and Grace receive a lot of kindness after they deal with something hard. This book does a great job of showing how a little kindness can help someone a lot! Overall, I think this would be the perfect bedtime story for any young reader.
Explain your content rating:
This book is perfect for kids.
KEYWORDS