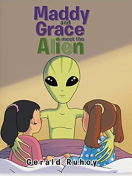 LitPick Review

Maddy and Grace love having sleepovers; they are always full of fun games, yummy treats, and lots of laughter. But one day as Maddy and Grace are having a sleepover, they are awoken in the middle of the night by a bright light coming through the window. They see a small figure standing in front of the bed and realize that it is an alien! At first, they are scared, but they quickly realize that the alien is kind and decide to go with the alien to explore his spaceship. On the spaceship, the alien shows the girls around and teaches them games the aliens like to play. They then meet the guest passengers on the spaceship, who are all creatures from different planets around the galaxy. Before the alien takes Maddy and Grace back home to Earth, he leaves them with one important lesson: always be kind and spread peace to each other!
Opinion:
I really enjoyed reading this picture book! Through the aliens, I liked how Maddy and Grace were able to learn about extending peace and being kind to those who are different than you. I think it was very creative of the author to show multiple kinds of aliens from different planets getting along well, as it really shows with kindness you can become friends with anyone, no matter how different you are. I also think the author did a nice job of portraying the spaceship as a fun place where different types of creatures come to learn and explore. The setting of this book makes it a very fun read, and I think any kids who enjoy learning about space or aliens would enjoy reading this book. The colorful illustrations in this book are especially nice as you can see what all the different creatures look like! Lastly, I liked how the pace of the picture book moved quickly since I think this added to the excitement of all the new things that were happening to Maddy and Grace in the book. Overall, I think this would be a great bedtime read for children.
Explain your content rating:
This book was written for kids.
KEYWORDS
ACTIVITIES, HOBBIES, PLACES, AND EVENTS: