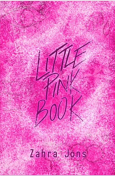 LitPick Review

Amelia just moved to Granby High from Okinawa, Japan. Being the new girl is always tough, but even tougher when THE girls are after you.
THE FIVE girls have the power to make your life miserable at Granby High, and unfortunately for Amelia, she bumps into THE Samantha leaving books, papers, and homework flying everywhere, making Amelia fall flat on her bottom.
And not to mention, Matt was watching her.
Why can't Amelia ever manage to look cool in front of Matt?
After that incident, Amelia finds a little pink book belonging to Samantha. The book looks old and looks like a weight tracker.
But, the book may not be what it seems; the book has a dark, dark secret.
Will Amelia get consumed by the book, or will she stand up to it?
In Little Pink Book, Amelia learns the power of true friendship while finding herself along the way.
Opinion:
Little Pink Book is a great laugh-out-loud book!
I really appreciate all the details that the author included in this book. Growing up in VA myself, I recognize a couple of the places mentioned in this book.
I also like how Amelia ended up growing as a character at the end of the book. Even through the trials she faced, Amelia stayed strong and true to herself.
Also, the idea of this book was really interesting. I never read a book like this before!
Including the THE girls was a hilarious touch in this book.
I enjoyed reading this book, and I'm looking forward to reading and reviewing more books from this author!
Explain your content rating:
This book has a few curse words, but none that are too bad. I would recommend this book to a reader between the age of 13-17.
KEYWORDS
CHARACTERISTICS AND EMOTIONS:
ACTIVITIES, HOBBIES, PLACES, AND EVENTS: